The old neighborhood under the Aurora Bridge has undergone dramatic change, but retains much of the quirky character that has made it such a magnet over the years.

By Stacey Solie | Special to The Seattle Times | May 17, 2013
With hugely popular seasonal festivals, a high concentration of live-music venues, an abundance of Thai restaurants rivaled only by an abundance of bicycle shops, Fremont is firmly established as a destination place to play in Seattle.
And, as companies such as Adobe Systems, Getty Images and Google have taken up occupancy in the low-slung office complex along the Lake Washington Ship Canal, Fremont is also clearly where people go to work.
Fremont's residential community is growing, too, with many new condos, town houses and apartments going up in recent years, replacing older single-family houses.
More new housing developments are on the way — a 138-unit project on Stone Way North near North 36th Street and a 172-unit complex nearby on Woodland Park Avenue North.
In the meantime, existing residents mix with the work-hard, play-hard crowds which, on any given night, are out partaking of the neighborhood's lively entertainments.
From taking in a live performance to imbibing locally brewed beer (Fremont Brewing) or spirits (Fremont Mischief Distillery) or gorging on locally roasted organic chocolate (Theo Chocolate), there's no shortage of options in Fremont.
"I really appreciate the walkability," says Karen Woodburn, 29, who moved to Fremont from Wallingford about three years ago.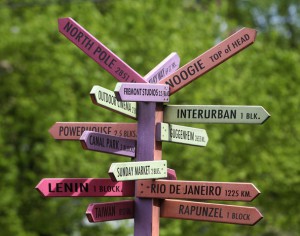 A student at Bastyr, after class on Fridays she heads to Fremont's Thrive Healing Massage for a rubdown and then meets her husband for a cocktail at Quoin. Sometimes they follow up with a game of Super Mario Brothers at the Add-a-Ball underground arcade across the street.
Josh Woodburn, a 31-year-old bioengineering graduate student at the University of Washington, likes that after a night out in the bustling lower Fremont area, the couple can wander up the hill to their one-bedroom duplex, which they rent for the under-market rate of $815 a month in upper Fremont.
"The weekends can be randy," Woodburn said. "Especially in the summer, it gets crazy."
Home values in Fremont have jumped over the past year, as they have throughout the Seattle area, according to figures compiled by Seattle-based Zillow.com.
The median value of all single-family houses in Fremont, not just those that recently sold, was $495,500 in March, up 10.8 percent year-over-year, the Zillow Home Value Index shows.
The median value of condos in Fremont was $347,700 in March, up 14 percent year-over-year, and the median apartment rent was $1,766, up 3.5 percent year-over-year, according to Zillow.
The Fremont neighborhood is considered "very walkable" (meaning most errands can be accomplished on foot) and got a rating of 86 (out of 100) from Walk Score, a Seattle company that provides automated walkability ratings.
Fremont does not try to keep itself secret. The Chamber of Commerce puts out a free map and brochure for tourists, and the area's past is immortalized in the History House museum.
Its sidewalks are dotted with historical markers for self-guided tours, or, for a more interactive experience, a costumed street-theater crew leads group tours.
These, along with zany events, including the Solstice Parade, coming up in June, featuring belly dancers and naked cyclists, and Moisture Fest, with burlesque and aerial performances, lends this little pocket of North Seattle a manic pixie theme-park festivity.
Situated between Ballard and Wallingford, and connected by the Burke-Gilman Trail, Fremont is also a neighborhood that proudly flaunts its many displays of public quirk. These include a pair of topiary apatosauruses lingering off Phinney Avenue; a larger than life-size bronze homage to Vladimir Lenin, the Bolshevik totalitarian dictator, who seems to be perpetually striding away from an Italian gelateria behind him; a mounted silver Cold War-era rocket pointed into the sky, as if ready for takeoff; and a one-eyed VW-grabbing troll under the Aurora Bridge.
Fremont's current incarnation is a far cry from its scruffier days in the 1960s, back when Brian Regan began frequenting the area.
A teenager at the time, Regan recalled squatting in a room on the second floor of what was then the Fremont Hotel, a historic building on Fremont Avenue North. There, he did not pay rent, he said, and he doubted that anyone else did either.
"You could live a sort of openly illegal life," Regan said.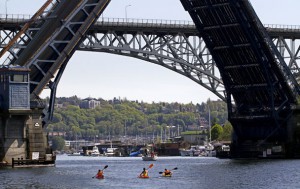 That was a different Fremont entirely. Some of the buildings were boarded up and abandoned, partially a result of the 1932 completion of the Aurora Bridge (officially the George Washington Memorial Bridge), which dwarfs the Fremont Bridge and allows traffic to zoom past Fremont altogether.
Additionally, "the end of interurban rail service in 1939 and trolley service in 1941 sent the neighborhood into eclipse," says the neighborhood's story at HistoryLink.org.
This decades-long period of neglect also created affordable space for artists to move into the neighborhood, Regan said, beginning the area's transformation into an arts and business hub for the city.
As the neighborhood began to transform, so did Regan, who, after spending his youth on the other side of the law, had an epiphany, earned a business degree from the University of Washington and became a developer.
His most recent project is the newly constructed Saturn Building, a five-story office building at North 35th Street and Evanston Avenue North, anchored by the upscale Wine Tea Chocolate cafe.
Today, rent-free living in Fremont is nearly impossible to fathom. At the Epicenter, a six-story apartment complex whose exterior is adorned with whimsical curlicue metal sculptures, studios begin at $1,250, one bedrooms go for $1,550 and two-bedrooms for $1,950, said Lydia Anderson, a leasing agent for the building.
Perched above the PCC Natural Market, the complex has few vacancies, she said.
Anderson, a writer and a copy editor, moved to the Epicenter from Redmond a year ago and says she enjoys the car-free lifestyle, where she can walk to Peet's Coffee to get her writing done.
When Pete Hanning first moved to Fremont, in the 1990s, it still had a lot of rough edges.
"It was a lot grittier, then. A lot more blue-collar," said Hanning, co-owner of the Red Door Saloon.
The area was popular with motorcyclists, and it attracted one of the largest AA meetings in the Northwest, he said.
Since then, Hanning stepped up from bartender to co-owner of the Red Door. He met the woman he would later marry, Emily Hanning, in Fremont, and the couple recently purchased a house adjacent to the Hazel Heights P-Patch at 42nd and Baker -— a community garden named in honor of the previous owner of his home, the late Hazel Hurlburt. Hanning's house harbors one of two cisterns that collect rainwater for the garden.
Civic engagement is a strength of the neighborhood, Hanning said.
The social-services group Solid Ground was founded there.
Hanning recounted that, at a fall 2012 election debate between state Democratic Speaker of the House Frank Chopp and socialist candidate Kshama Sawant: "The tension was between the Democrat and the Socialist, and the Democrats were being pushed like they were far to the right," he said, adding, "We are in Fremont."
A central figure in Fremont's cultural, political and business realm is developer Suzie Burke.
In the residential market, Burke said Fremont's vacancy rate is typically low. "We have infill from folks going to the University of Washington, and SPU (Seattle Pacific University). They come and go. It lubricates our apartment market."
"As far as houses go, Fremont fits right into the same boat as most of the rest of Seattle. There aren't very many for sale," Burke said.
Burke anticipates that the completion of a currently under-construction property she owns, at 3400 Stone Way N., may bring new residents to the area.
So could the running-shoe and athletic-gear manufacturing company Brooks Sports, when it moves there later this year from Bothell.
Arguably Fremont's No. 1 promoter, Burke says Fremont has it all.
"It's one of the only neighborhoods of Seattle where it's actually possible to work, live, shop and totally enjoy being a Fremonster."