NOW TAKING RESERVATIONS FOR OUR ROOFTOP GARDEN at Mischief on Canal
Enjoy Pacific NW sourced plates and artisan cocktails.

Join us in our open-air Rooftop Cocktail Garden that overlooks the canal, or in our Canal Room that opens onto our Courtyard. 
To ensure proper spacing between tables, we only have limited seating available at this time, so reservations are highly encouraged. 
Our staff is taking your health seriously and are following all the COVID safety precautions. 
Experience Mischief's award-winning spirits in a craft cocktail.
Savor a flight of Manhattans and compare the differences between a rye forward classic made with house-made vermouth to a blackberry Manhattan made with Whidbey Island Distilling's Blackberry Liqueur to the unique flavor of a Walnut Manhattan featuring Sidetrack Distilling's Nocino Liqueur. Pair your unique flight with local smoked oysters or beet pickled deviled eggs, all while in the open air enjoying the view of the boats going by on the canal. 
Stock up on Hand & Surface Sanitizer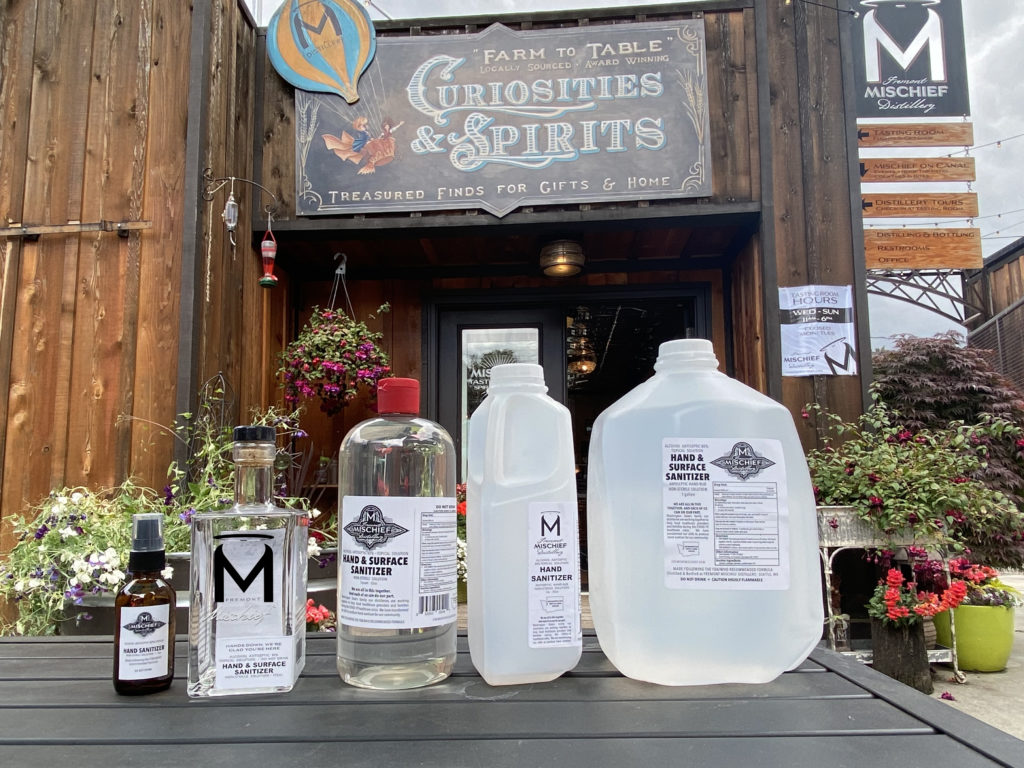 • Personal (13oz) ($14)
• 1 gallon ($50)
• 5 gallon bucket with pour spout ($260)
• Case:24-32oz bottles  ($330)
Fremont Mischief Distillery has joined with the Washington Distillers Guild to make hand-sanitizer for personal and industrial use. With a nationwide shortage, your local WA Distillers are making up the difference so hospitals, childcare facilities, first responders and others get the hand-sanitizer they need.
At Mischief, we are happy with our role and grateful to join with other distillers to keep first responders & our community safe. 
If you need larger quantities of hand sanitizer,  call us at 206-632-0957 and ask for Patti, or fill out this form:
Tasting Room:
We are open! We are limiting the number of customers inside, but we have patio seating for tastings!
Tastings and Bottle Sales:
Wed – Sun 11am – 6pm
Mischief on Canal
Summer Craft Cocktail Bar Hours:
4-9pm Thurs – Fri
2-9pm Sat
2-7pm Sun
Sign up for our Newsletter
Stay up to date on the latest Mischief, and get new cocktail recipes.