Pick up a little Mischief to take home. You currently can order cocktails to go, and anything off of our restaurant menu to go, during restaurant hours, but now you can get lunch
Read More »
HOURS: 
Tastings and Bottle Sales:
Wed – Sun: 11am – 6pm
Craft Cocktail Bar:
Fri: 4 – 9pm
Sat: 1 – 8pm
Sun: 1 – 6pm
Enjoy our covered heated seating outdoors in our courtyard.
Sign up for our Newsletter
Stay up to date on the latest Mischief, and get new cocktail recipes.
Stock up on Hand & Surface Sanitizer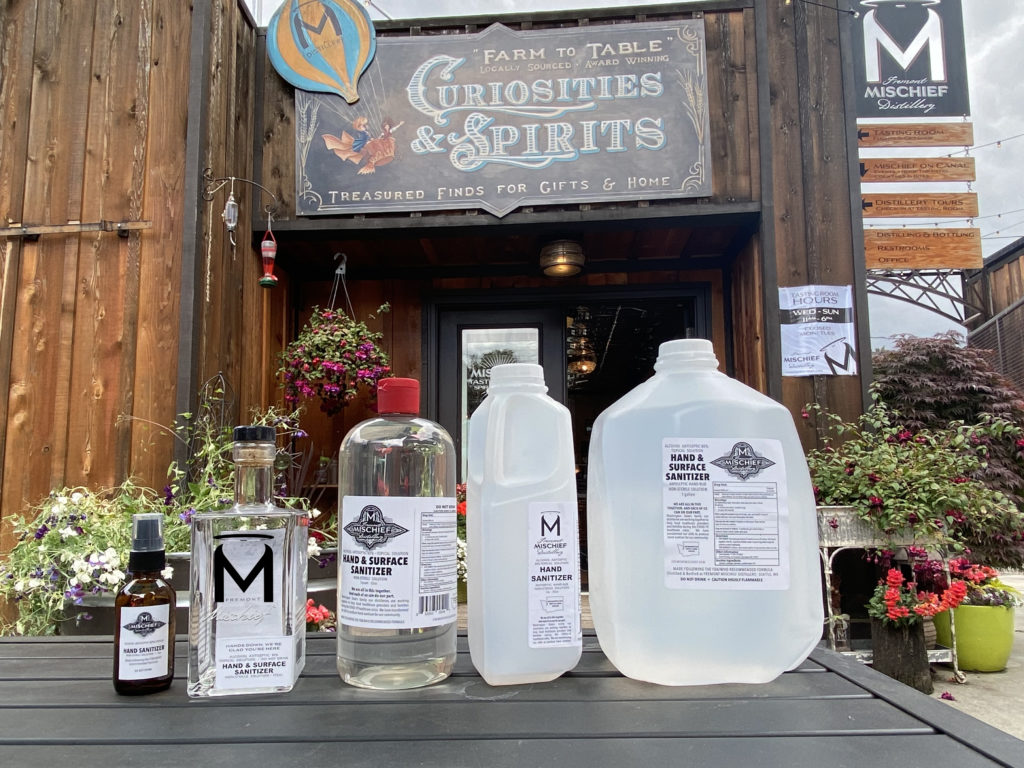 Fremont Mischief Distillery has joined with the Washington Distillers Guild to make hand-sanitizer for personal and industrial use. With a nationwide shortage, your local WA Distillers are making up the difference so hospitals, childcare facilities, first responders and others get the hand-sanitizer they need.
At Mischief, we are happy with our role and grateful to join with other distillers to keep first responders & our community safe. 
• Personal 13oz size ($14)
• 1 gallon ($50)
• 5 gallon bucket ($260)
• Case: 24-32oz bottles  ($330)
If you need larger quantities of hand sanitizer,  call us at 206-632-0957 and ask for Patti, or fill out this form: