[vc_row][vc_column][vc_column_text]

A Fundraising Party with the Captains of the Deadliest Catch
Join us at Mischief Distillery on Saturday, May 20th from Noon to 3pm & help the Captains fill their barrels as we launch Storm Tossed 2 with barreling, barbecue, live music and of course whiskey.
Fill the Captains' Barrels:
Fans  & Followers can donate and receive un-aged whiskey to help fill their Captain's signed barrel, then also sign the barrel with their name.  The barrel will be loaded onto the ship just before it heads to Alaska and the Bering Sea in June.  The fans & followers can track their whiskey (AIS on our website) and get updates on conditions and how their whiskey is faring.
Fundraiser:
The Captains will be there supporting the organizations they are fundraising for.
Live Music:
Featuring Septimus,  performing R&B and funk, the band includes members who have played together as a family for more than 40 years.
Barbecue: 
Bavarian Beer Brats with caramelized onions, sauerkraut, all the classic fixings,
Mixed spring greens with apple, toasted walnuts
Corn on the cob with sea salt & butter
Whiskey ice cream floats & root beer floats
cookie crisps
Tasting Booth and Cocktails: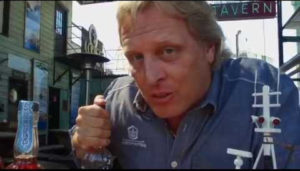 Compare Storm Tossed 1 Rye Whiskeys and judge for yourself how the unique aging in the Bering Sea creates a delicious sea salt caramel flavor profile. Enjoy a variety of cocktails featuring Storm Tossed Whiskey (Cash Bars)
[/vc_column_text][/vc_column][/vc_row][vc_row][vc_column][vc_separator][/vc_column][/vc_row][vc_row][vc_column]
[/vc_column][/vc_row]