We are getting ready for the holiday season here at Mischief! Come join us for all kinds of family friendly and outdoor, socially distanced experiences!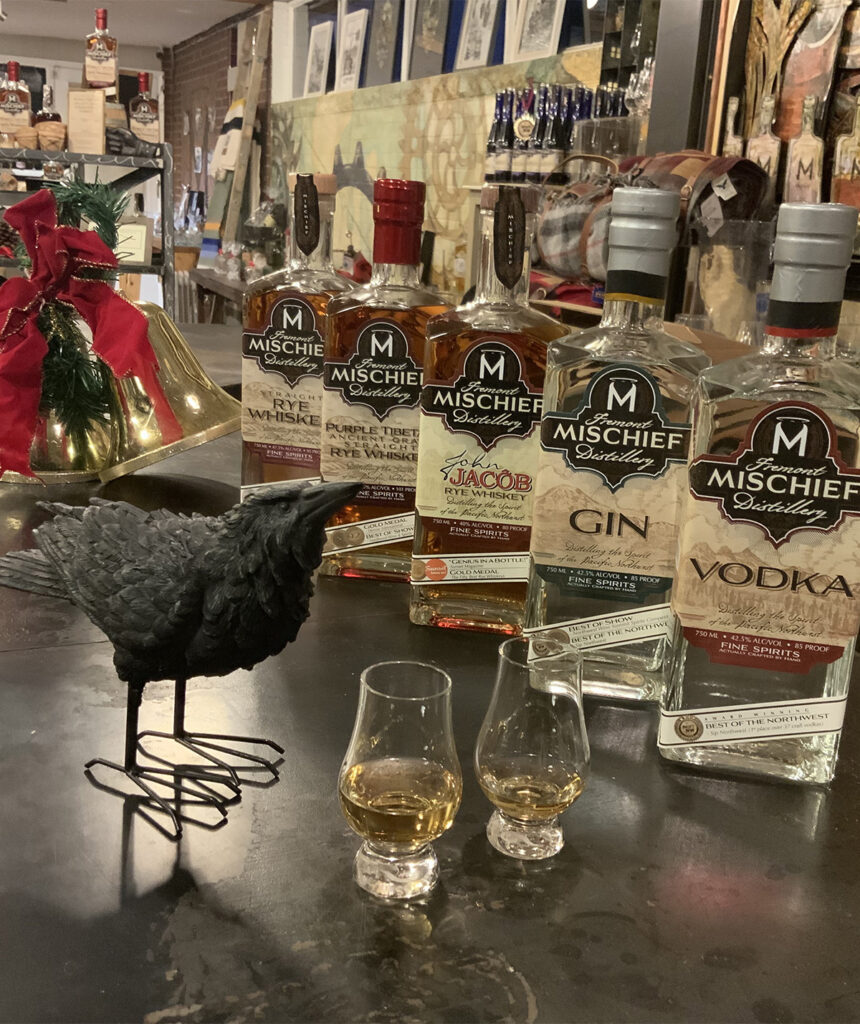 LOCAL Spirits ACTUALLY CRAFTED BY HAND make the perfect gift
Our bottle shop is open and overflowing with all kinds of holiday gift ideas for all the whiskey enthusiasts on your shopping list. We have three bottle tasting kits complete with tasting notes and a set of playing cards. Soon we will have 12 bottle tasting kits! Perfect gift to give to someone you wish you could spend time with, just mail them the tasting kit, get one for yourself and do a virtual tasting together over Zoom! We have lots of great glassware, t-shirts with hand drawn steampunk images, gift certificates and of course all the spirits, mixers and recipes you will need to make sure you can get through this unique holiday season with a delicious cocktail in hand, made with locally distilled spirits.
Shouldn't you be indulging yourself with a little charcuterie plate and whiskey tasting?
Perfect outdoor activity after a lovely walk along the canal! Our Chef has curated a delightful little plate of cured meats, local cheeses and house pickles to perfectly accompany our rye forward whiskies, smooth brandies and unique gins and vodkas.
You deserve a treat right?
TASTING ROOM HOURS: Wed- Sun 11-6pm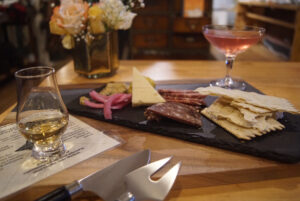 ---
Roast Marshmallows!
Fun outdoor activity for the whole family.
Come by any weekend between now and New Years and purchase a S'mores Package and roast marshmallows in our mini fire pits! Each package comes with all the fixing for some sticky sweet concoctions that will take you right back to those family camping trips; including marshmallows, Theo's chocolate, graham crackers and hot chocolate for the kids and cocktails for the adults!
Perfect activity to get out of the house for a little outdoor adventure in the city. We are a dog friendly place too!
FRIDAY, NOV 27 from 11-6 plus
every SATURDAY and SUNDAY, NOV 28 – JAN 3 from 11- 6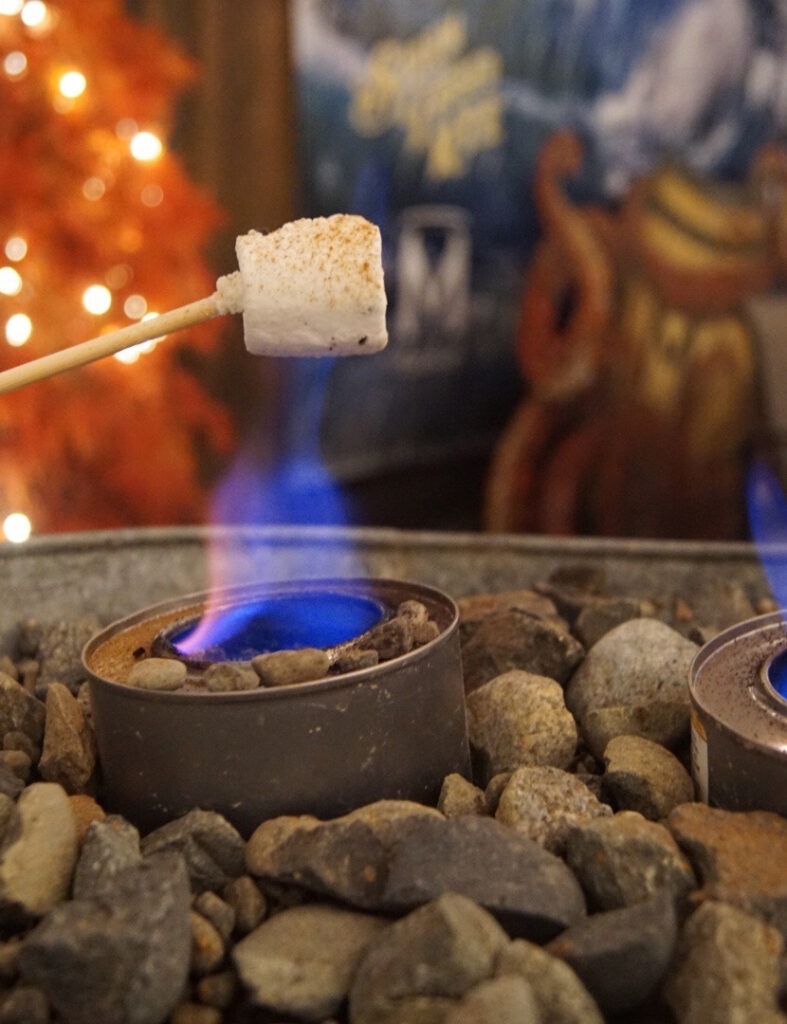 ---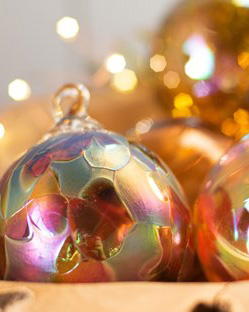 Glass Eye Holiday Ornament Pop Up
It's time to deck those halls and stuff those stockings! We are partnering with Glass Eye Studios and will have a special Glass Ornament pop up shop in our winter wonderland.
We will have a unique selection of hand made ornaments on display every weekend between now and Christmas.
TASTING ROOM HOURS: Wed- Sun 11-6pm
MISCHIEF ON CANAL HOURS: Thursday and Friday, 4-9pm
Saturdays, 1-9pm, Sundays 1-6pm
---
MIschief ON-THe-GO
Having a private party at home? Why not enjoy a handcrafted cocktail? Come in and pick up a few, call in and place your order, or order online and pick up curbside! Comes in an 8oz bottle, perfect for two!
Current Cocktails to-go are: Bourbon Maple Cold Brew, Blueberry Ginger Vodka Shrub, Lillet Gin and Tonic. We will be adding new flavors every week.
Soon we will be offering some of Chef John's famous soups to go too!
TASTING ROOM HOURS: Wed- Sun 11-6pm
MISCHIEF ON CANAL HOURS: Thursday and Friday, 4-9pm
Saturdays, 1-9pm, Sundays 1-6pm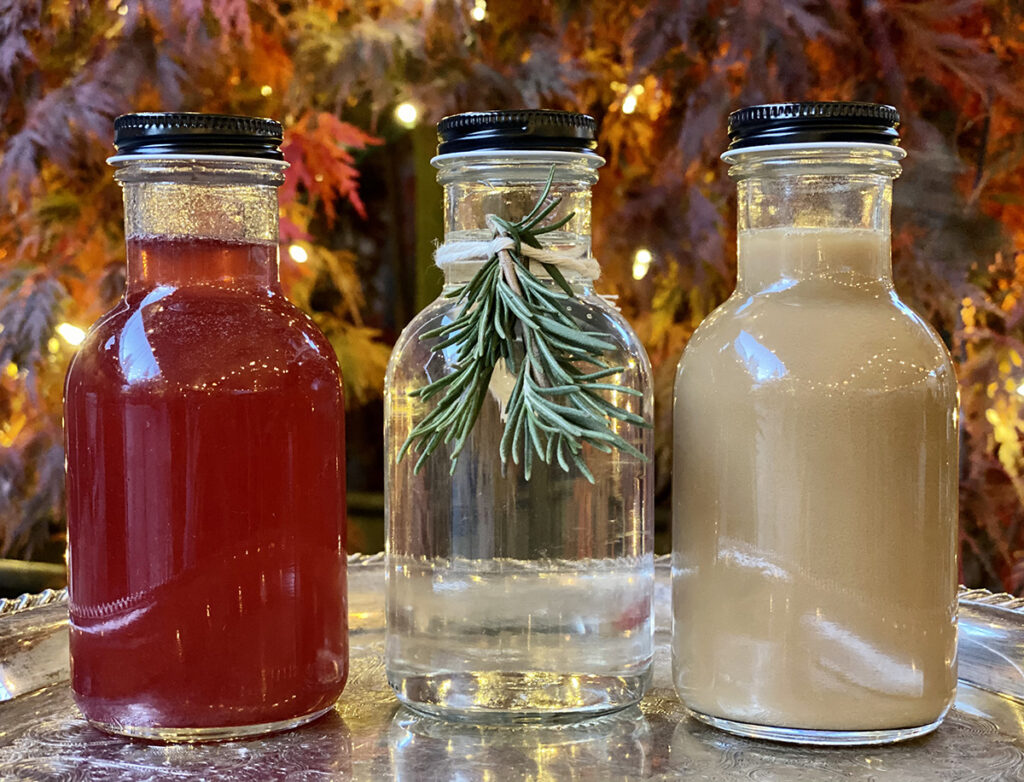 ---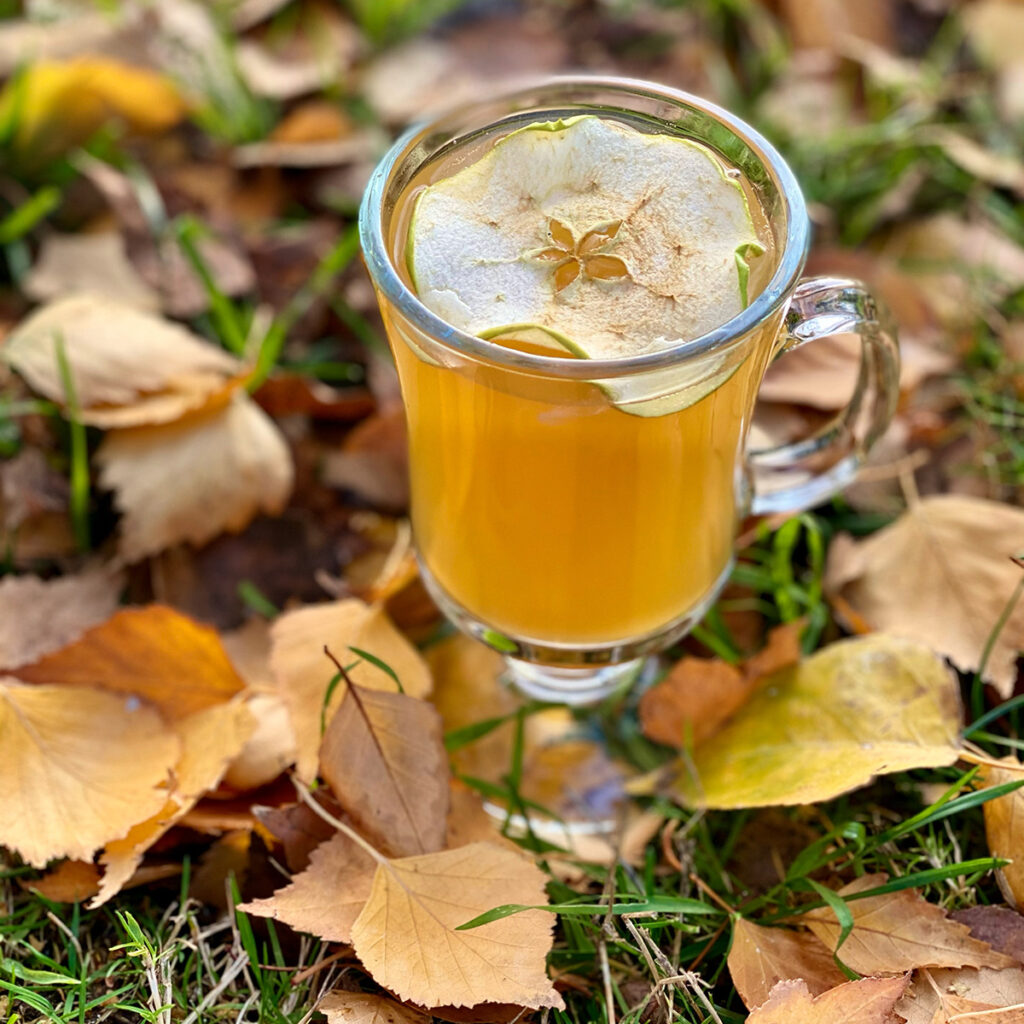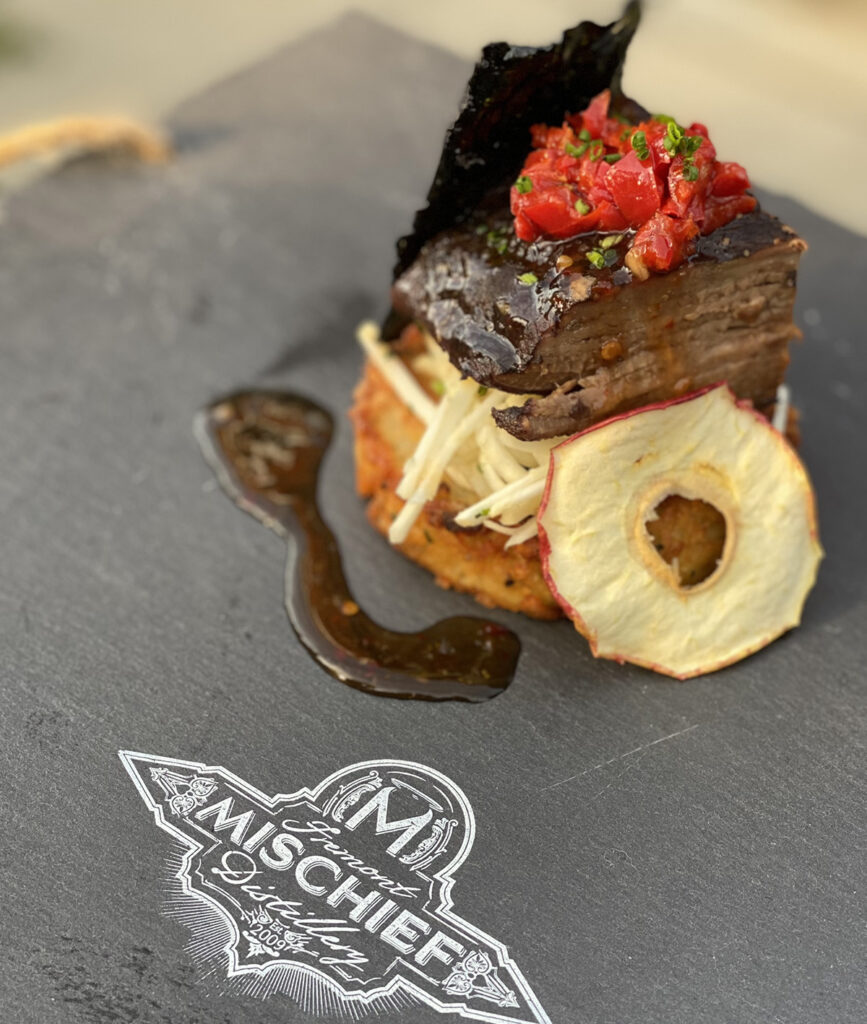 Grab a warm Craft Cocktail and a Delectable Bite under our heated tent
Restaurants are really struggling to survive in these difficult times. Luckily for us, we have a huge heated, open sided, outdoor tent in our courtyard and we are still serving hand crafted cocktails and small plates. Come enjoy a delicious hot toddy or spiked apple cider and enjoy one of Chef John's delectable small plates, perfect to warm you up on these brisk winter days. Walk-ins are always welcome, but to ensure you have a seat, we do take reservations.
Family and dog friendly!
Family and dog friendly!
MISCHIEF ON CANAL HOURS: Thursday and Friday, 4-9pm
Saturdays, 1-9pm, Sundays 1-6pm
---
Mischief for the Holidays Schedule!
Marshmallow Roasting:
FRIDAY, NOV 27 from 11-6 plus
every SATURDAY and SUNDAY, NOV 28 – JAN 3 from 11- 6
TASTING ROOM HOURS: Wed- Sun 11-6pm
MISCHIEF ON CANAL HOURS: Thursday and Friday, 4-9pm
Saturdays, 1-9pm, Sundays 1-6pm