At some point during the lockdown—as we worked on making Mischief an even more welcoming destination—we realized the distillery, restaurant, and event space we've been building for many years is a safe outdoor getaway.
It's an optimal Seattle spot to settle in with a glass of award-winning whiskey and exquisitely constructed bar bites at distanced outdoor tables alongside the Fremont Canal, which elegantly joins the Puget Sound with Lake Union.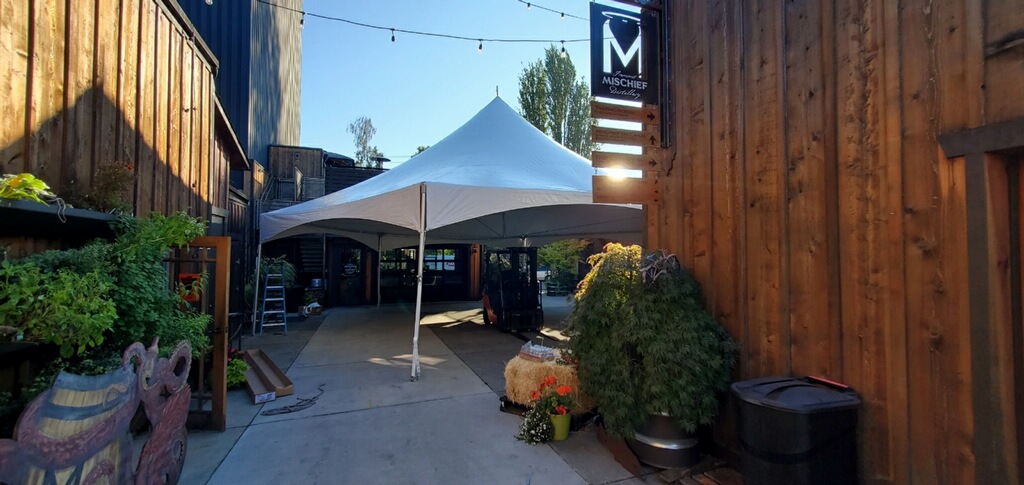 When we moved here more than a decade ago, it was a few old warehouses and a pitted gravel lot. Owner Mike Sherlock designed our distillery and built it using carpentry, welding, and plumbing skills he honed as a fisherman, factory builder, and houseboat designer. He also created a viewing room for whiskey tourists and a tasting room full of curiosities for the whiskey newcomer and the enthusiast.
But there's even more to Mischief than our whiskey production.
The paved courtyard that replaced the muddy lot anchors the distillery, the tasting room, and our newest addition to the Mischief landscape: a two-year-old building that houses Mischief on Canal, our craft cocktail bar and restaurant. Downstairs, the interior has a bar, a number of tables, and canal-side window seating. During non-pandemic times, it's a cozy space to sit down for a drink. But in warmer months, it's a breezy gathering space because the entire courtyard wall is a garage door that opens to the fresh air and a large tent covered courtyard.
Upstairs, our rooftop dining is a getaway for anyone craving excellent food and service in the COVID era. We have a limited number of tables that are well distanced from each other. The tables themselves are large, to allow plenty of airflow between guests. And it's homey. The wall next to the bar is an herb garden that Mike and our chef, John Wahlke, built during lockdown. Big umbrellas shelter tables from the sun.
Once you're seated, choose from a menu of locally inspired starters, small plates, desserts, whiskeys, spirits, and whiskey-centered and spirit-forward cocktails. Try a flight of our Manhattans (classic, amaro, and blackberry) or a flight of straight whiskeys or spirits. Order a classic negroni, sour, sidecar, or martini—or branch out and try one of James's twists on these classic drinks. The barrel-aged negroni is a bewitching combination of our barrel-finished gin, Campari, and house sweet vermouth. Incidentally, all our sidecars are made with Mischief's own brandy. We're one of the only distillers in Washington State making brandy from Northwest-grown grapes, apples, and marionberries.
Our whole menu is centered around a single concept: Pairing. Order your food first and we'll recommend the right drink to accompany it. Decide first on your drink, and we'll point you to a number of dishes to complement it.
Call or book online for a rooftop reservation. We can't wait to serve you.
For more about our plates and Chef Wahlke's food philosophy, check out our post about Mischief's food.