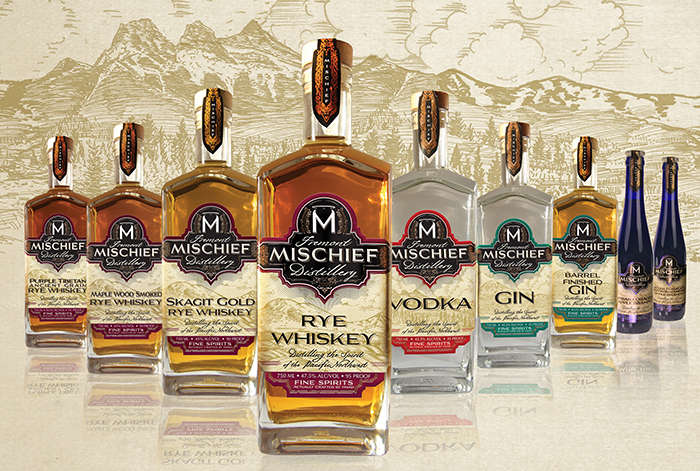 We have been busy bees here at Mischief, and are very excited to ​introduce ​​the new look of the Fremont Mischief Distillery brand. Each​ new​ label is individually crafted and illustrates a unique steampunk adventure​, but don't worry, our famous "M" with horns and a halo is still front and center​. We have ​also ​increased the proof on our flagship Spirits (Whiskey, Gin, and Vodka) by just a wee bit while maintaining the classic flavors you know and love.
We have two new ​spirits we are thrilled to intro​​duce: Skagit Gold Straight Rye Whiskey and Mischief Barrel Finished Gin​, both are available now, and later this year we will be releasing two brand new Straight Rye Whiskeys! Stop by our Tasting Room for a taste.
Barrel Finished Gin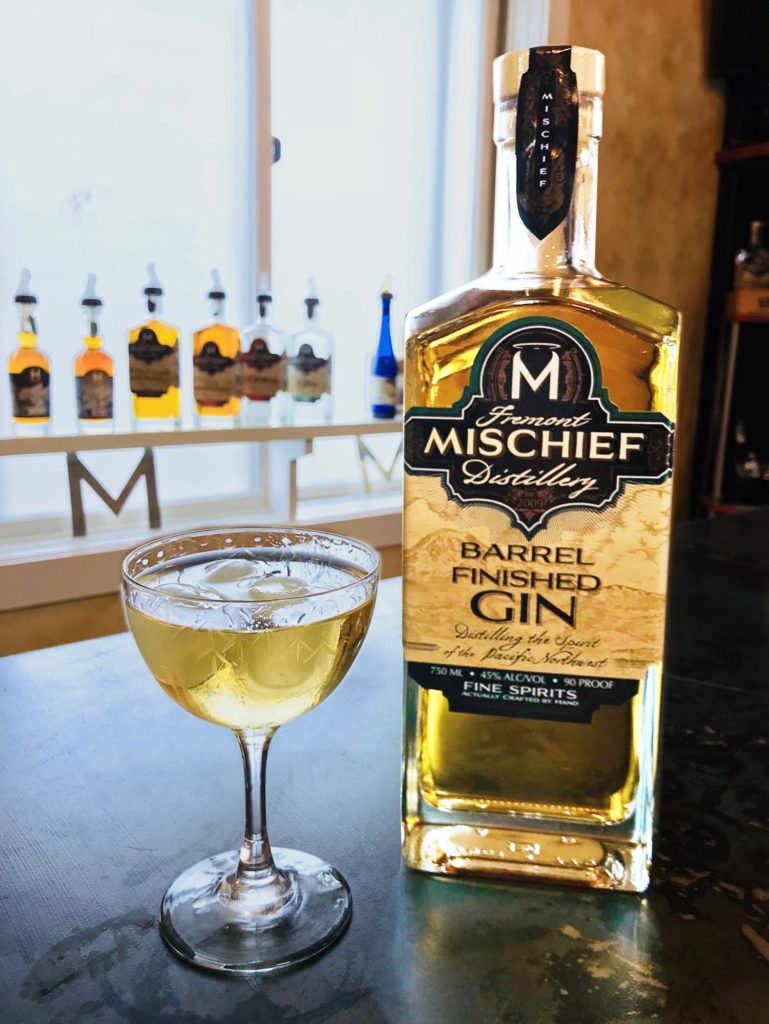 We Mischief's are very enthusiastic about our new Barrel Finished Gin ​(not to impugn Skagit Gold Straight Rye Whiskey…which rocketed to our best selling whiskey after its February debut).
Mischief's Barrel Finished Gin is a gin like no other – aged for 18 months in our very own used Mischief Whiskey barrels, our newest Gin shows great depth and ​character. We love the robust round mouthfeel highlighting flavors of ​vanilla,​ cinnamon,​ fennel, and juniper. ​It has all the amazing qualities of a barrel mixed with all the personality traits you look for in gin. Its delicious and was awarded, "Gold" & "Best of the Northwest" by Sip Magazine. Come try it for yourself!
We are experimenting with Barrel Finished Gin cocktails now, and invite you to do the same:
​To start, your taste buds on a journey, take your favorite glass, put one or two or a few ice cubes into it, pour a splash of Mischief's Barrel Finished Gin over the top. Easy sipping! . Mmmm !! and repeat. ​
Now, you're ready to explore the cocktail world – a whole new adventure. We welcome ​you to share your Barrel Finished Gin concoctions with us so we can share them with everyone else!