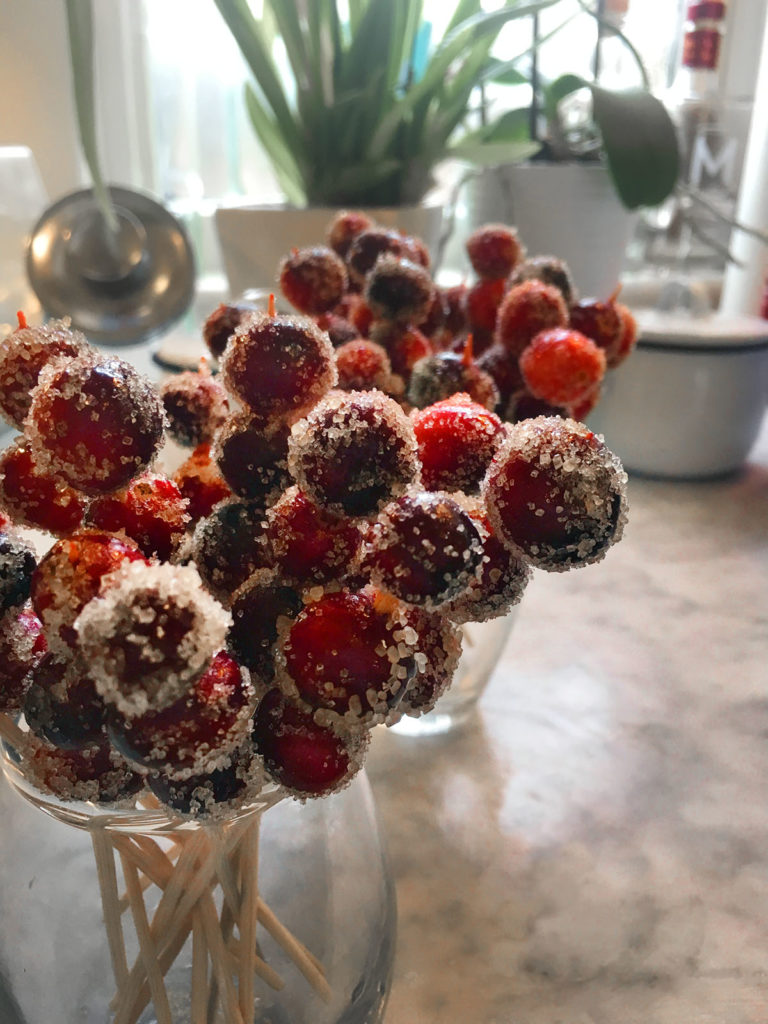 These lovely little garnishes are the perfect holiday treat and will liven up any cocktail. They can be cooked up well in advance, we have found they last at least a week. They are also tart and delicious, we found ourselves snacking on them like candy!
Ingredients
2 cups (or about 1/2 a bag) of fresh cranberries
1 cup sugar
1 cup water
Zest of 1 lemon
The juice of the lemon
2 teaspoons fresh cloves
1 cup fine or turbinado sugar for coating
picks, or wooden skewers
Procedures
Put the sugar, water, zest, lemon juice, and cloves in a saucepan and cook till all sugar is dissolved, just a couple of minutes. Add the cranberries and simmer lightly for 2-3 minutes.
Fish the cranberries out with a slotted spoon and place on a wire rack to dry for 1 hour.
After the cranberries have sat for a while, the sugar water should still be damp and a bit sticky. Put 1 cup of sugar in a small bowl, roll the cranberries around in the sugar to coat them thoroughly and then set out on a cookie sheet to dry for another hour. You can use fine sugar, or to make a more crystalized look, use a heavier sugar like turbinado or raw sugar.
Then skewer the treats onto a wooden pick (I used small wooden skewers, or you can use bamboo picks).
Pro Tip: Don't discard the leftover syrup! You can strain it and use it as a zesty sweet addition to any cocktail. It will last for at least a week and has a nice update to traditional simple syrup.